New Design for your Explanation of Benefits (EOB)
10/06/2021
When you get medical or mental health services from your primary care provider (PCP) or other provider, you get an Explanation of Benefits (EOB) once Blue Cross and Blue Shield of Texas (BCBSTX) has processed your claim.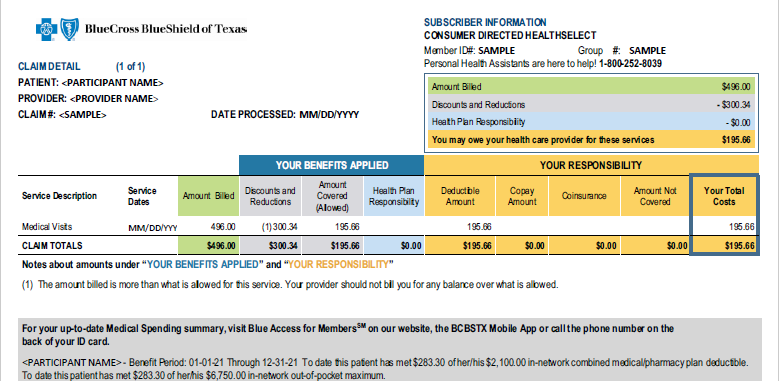 The EOB lists services you got, along with how much each service costs and how much your HealthSelectSM plan reduces your out-of-pocket costs. The EOB is also available in Spanish for those who chose Spanish as their language preference in Blue Access for MembersSM.
What's changed?
Your new EOB improves readability by:
Increasing the font size for footnotes
Separating deductible and copay amounts into distinct boxes
Adding colored headers for better defined sections
Creating a new total cost row at the bottom of the claims table, making it easier to understand your responsibility.
Updating the cover page with an easy-to-understand glossary, information section and important messages.
Read Alex's journey to better understand her EOB. Learn more about EOBs. You can also call a BCBSTX Personal Health Assistant toll-free at (800) 252-8039 (TTY: 711), Monday-Friday, 7 a.m.-7 p.m. CT, and Saturday, 7 a.m.-3 p.m. CT.