Health Assessment
Learn more about your health and earn 2,500 Blue PointsSM for completing your Health Assessment!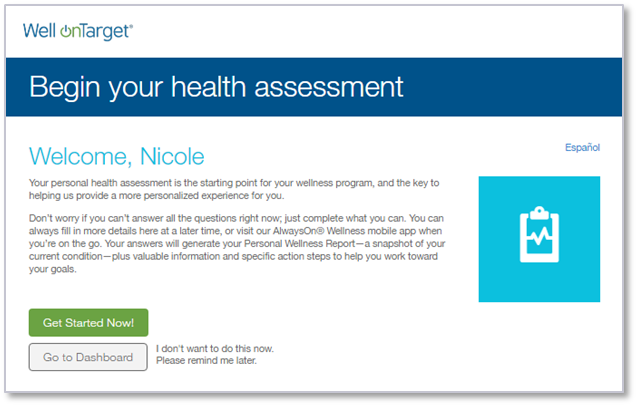 The first time you log in to your Well onTarget account through Blue Access for MembersSM, you'll get a reminder to complete your Health Assessment.
The Health Assessment takes about 15 minutes and asks a series of questions about your lifestyle and health habits. It will provide an overall assessment of your current health, including how your health compares to others in your age group. It will identify what you are already doing well and where there are opportunities for improvement. The Health Assessment adapts questions and suggestions based on your input. It provides action steps to help you change behaviors.
While it's not required, if you have a wellness exam before you take your Health Assessment, you'll have current health information to help you answer the questions.
After completing the Health Assessment, you will get a Personal Wellness Report based on your answers.
The Personal Wellness Report includes:
information about health risks,
wellness recommendations,
preventive care recommendations,
suggestions for next steps in your health and wellness journey and
recommendations for other health and wellness resources.
You also can compare your results with previous reports. Your answers will help tailor your Well onTarget portal with the programs that may help you reach your goals.
You can also access the Health Assessment through the AlwaysOn Wellness app on your smart phone. The app provides you with easy access to the wellness resources available through Well onTarget.
Check with your benefits coordinator to see if your employer allows you to get wellness incentives for completing the Health Assessment. Once you take the Health Assessment, you can print a certificate of completion to give to your employer.
You can get your certificate of completion, which does not contain any health information, directly from your Well onTarget dashboard in three easy steps.
From the dashboard click "Browse All Activities"
Click on "Certificates" in the "More Features For You" section
View or download your most recent certificate