Health Tools, Trackers and Coaching
Tools and trackers
Well onTarget's integrated trackers can help you monitor different areas of your health and wellness and give you an overall picture of your well-being.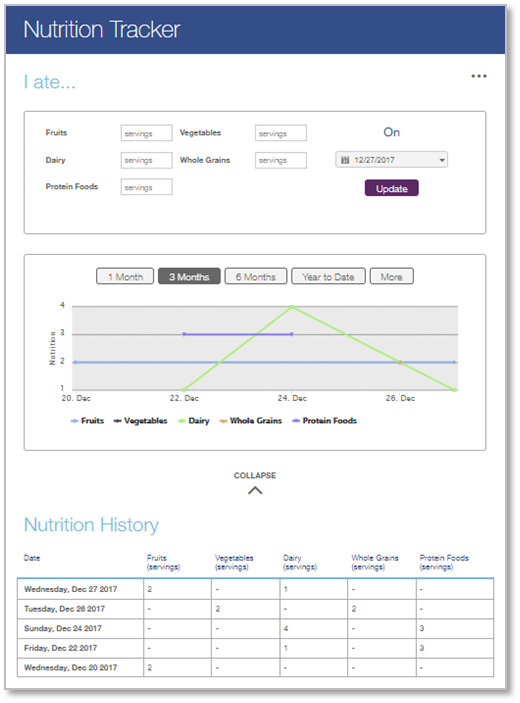 Integrated trackers include:
stress,
oral health,
weight,
blood pressure,
tobacco use,
cholesterol,
water intake,
physical activity,
sleep and
nutrition.
Well onTarget also lets you sync a number of popular health-tracking apps and wearable devices.
Tools like the interactive symptom tracker and educational content libraries can help you better understand your health and wellness.
Wellness coaching
Well onTarget's coaching team is made up of health experts, including dietitians, nurses and personal trainers. Coaches work one-on-one with you to understand your lifestyle needs and then help you set and achieve your goals.
Coaches can:
help you quit tobacco or get support for maintaining your tobacco free status,
help you improve your physical fitness, nutrition, blood pressure or cholesterol,
put you in touch with a registered dietitian who can help you understand your relationship with food,
share ideas for making healthy eating choices,
design a health and wellness plan that's right for your fitness level, lifestyle and goals and
find creative, healthy ways of thinking and acting that could combat stress.
You can participate in one coaching program at a time and work with a coach for as long as you like. You will work with the same coach throughout your program. You can self-enroll with a coach at any time through Well onTarget.
Once you are connected to a coach, you can chat with them via phone and secure messaging through Well onTarget online or the AlwaysOn app.